Skip Navigation
Website Accessibility


Join us for our 2nd Saturday
Mystery Skill Builder Quilt
Here is Picture of Last Years 2nd Saturday Mystery Quilt. Everyone who Participated LOVED it! This year will be just as cute!! (If not CUTER) Don't Miss out!!! Sign up now HERE
Welcome to our 2nd Second Saturday Mystery Skill Builder Quilt with a quilt designed exclusively for us. This quilt is a mystery but don't worry, it's going to be SUMMER THEMED CUTE.
The purpose of this sampler is to teach you many techniques and add to your knowledge of quilting.
Sign-up fee is $75 (+ tax) and must be paid to reserve your spot. The sign-up fee includes all the fabrics for the quilt top, including final borders and binding. This is all you will pay if you complete every previous month's block and bring it on the 2nd Saturday of the month. Quilt will be approximately 60" X 60"

SSMSBQ (Second Saturday Mystery Skill Builder Quilt) begins the 2nd Saturday in October (October 14, 2023) and continues for 9 months on the second Saturday ending with the big reveal in June 2024.

Tips, tricks and technique demos for each month's blocks are scheduled at 9:15am, 10:15am, 11:15am, and 12:15pm. Attending a demo is optional; however, lots of great information is shared every month.

YOU personally are required to come in on the 2nd Saturday to get your next block kit for free.

Your completed previous month's assignment must be presented to get your next kit free.

This quilt is a copyrighted pattern and is NOT meant to be copied. Your friends can purchase their own pattern from The Quilt Store at the completion of our mystery quilt.

When there is enough fabric left on a bolt, we will provide fat quarters for sale. Remember, these are scrappy quilts and fabrics from your "stash" are always a good substitute.
There may be months when you will need to pay $5. Here are some examples:
You will pay $5 if you do not complete the previous month's assignment.

You will pay $5 if you send someone else in your place to pick up your kit.

You will pay $5 if you forget to come on the 2nd Saturday and come in on a different day.

You will pay $5 if you forget to bring your completed assignment with you.

You will pay $5 if you cannot come in because you are on vacation.
Watch our video from our 2nd Sat reunion and all the beautiful quilts!!! HERE on Facebook
NoCo Shop Hop June 1st - 11th, 2023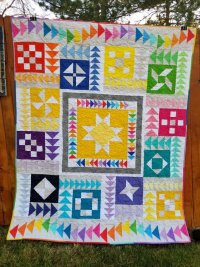 Pantograph Presentation Available!